Welcome to Mamarose's "My Sweet Thing Bakery."
"Live simply. Love generously. Care deeply. Speak kindly!"
The Bakery is a fantasy, but our caring is very real!
In Memory of Gerwhisp



We go forward here in The Bakery, but not without remembering, each and every day, our dear beloved Gerwhisp. One of the founding members of The Bakery, Gerwhisp was our Bakery Graphic Artist and so many of the graphics we still use so often in the Bakery and all over The Clayboard we have because of her. Though she is gone from us, I truly believe her spirit will never leave The Bakery. When we visit here, we will always find her and be able to hold her near.
We love you Gerwhisp, always and forever.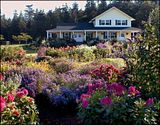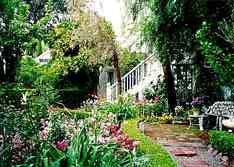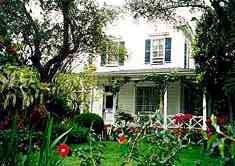 Come in, sit a spell, peruse our menu and order what you like. The coffee is always hot, the tea soothing and the baked goods...well...words cannot describe!!! All are welcome to join our Bakery family. We love getting to know new folks!!!
Clay is a frequent visitor to the basement where he has his own pretty rustic digs. He is in and out so of course he has his own key: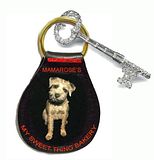 Well gee...at this point...we all have keys...but in truth...keys are pretty inconsequential here because we run a pretty much open shop and there is always a lot happeing.
We have our bakery cats. There is Muffin, who even takes it in stride when Bakery Assistant Foxy steps on her tail: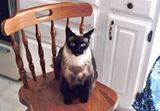 And Jaws: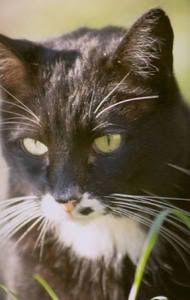 And now the Bakery dogs, Bugsy and Pupski: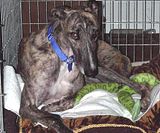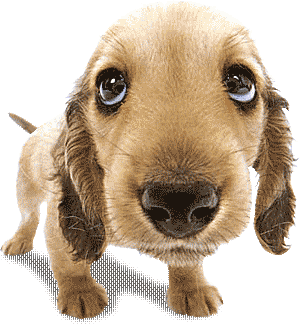 And then there is the fish...Nemo: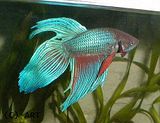 And of course the chickens...don't even ask about the chickens!!!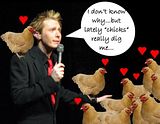 All our pets love the boys! And speaking of the boys...first came Kenny, who wandered in some time ago looking for work! How were we to resist his charms. He started out as the Bakery coffee pourer, cat wrangler and jack of all trades...but we have found that Kenny is also an amazing cook!!! His omelettes are beyond compare!!! And he always serves them with a smile which makes us love him all the more!!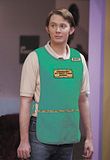 He resides in the Bakery attic, with Muffin as his constant companion.
And then came Trey, who also shares Kenny's loft space. Again...who could resist his charms.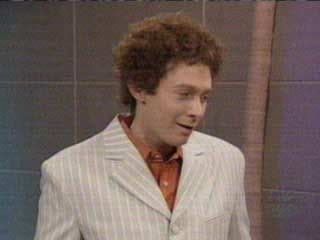 But Trey definately earns his keep...because he is a master gardener. He provides the bakery with such an array of fresh fruits and veggies, and his roses are his pride and joy.
As you can see...it is a busy household! But with the help of my able Bakery Assistant Foxy, things run smoothly...most of the time.
Perhaps the most popular time of the day in the Bakery is Happy Hour, when everyone has their favorites including these: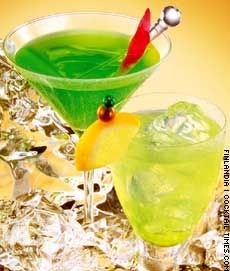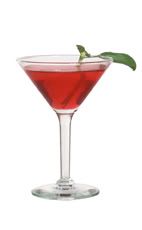 And now that we have the piano...well...things are always pretty lively...to say the least!!!
Of course when things heat up...we always have this: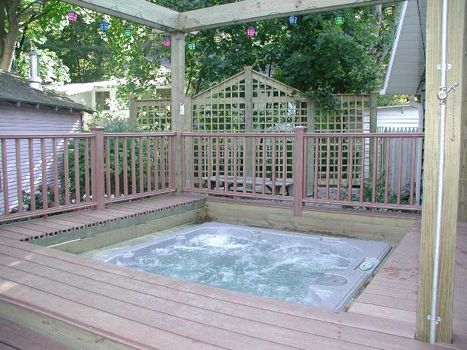 That is when we are not down by the stream!!
As you can imagine...things at the Bakery are always more hectic when this young man is in town, but I don't think any one of us will complain: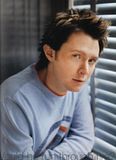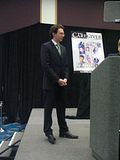 We try to keep things quiet when he is here...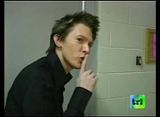 ...but I think he has gotten used to people interrupting his sleep, popping down to the basement at all hours to check on him, cover him, take his pillowcases, stroke his forearms, etc. He is pretty good about it and always seems to have a smile on his face when I lovingly bring him his morning tea.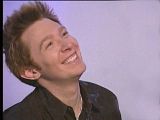 Of course I have tried to talk to him about the late night goings on...but when I do...he just pats my hand and laughs.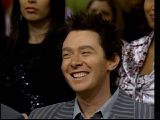 One thing we all agree on...the Bakery is magic...and it is REAL!!!
Iseeme summarized it quite well when she said:
Quote:

---

Thanks Mama for the bakery..............it's an angst-free zone!!! Speculation is limited to which cookie is better on any given day. Criticism is only leveled at the weather man - in case it's raining or snowing and we forgot our Burberry overcoats. Postulation is only allowed as it refers to the aroma on walking in the door - hmmmmmmmmmm, I KNOW that's snickerdoodles I smell baking? (when in fact it's oatmeal/raisin). Contentiousness is only allowed when two people want the same seat in the corner and then the decision is made based on rock/paper/scissors (best 2 out of 3). Consideration is always welcome and considered a staple in this environment. Blind and unquestioning adoration is applied at all times to the cute spikey-haired guy that hangs out in the basement sometimes when he needs a very quiet place to nap. And no peeking is allowed Foxy!!!! Rigidity and formality relevant only to the line of milk bottles in the refrigerator!!!! All animals that are not named Raleigh have to wait outside!!!!

---
Be it miracle or fate, the force of the joy we find in Clay has brought us all together here and forged our "Bakery bond," the bond I feel our own Inishi captured so well in her poem:
Hands Baking Bread
(by Inishi)

When my hands bake bread, I knead
Ocean, rock, the flesh of beasts and flora then
Draw down honey moonlight for alchemy's fire.
My frail, mortal fingers unite all that was to create all that will be and
I embed within each loaf this woman's power of touch
That can halt the most merciless onslaughts with a caress
That can melt centuries of isolation with a warm stroke.

My hands give away the bread,
Nourishment for body and tinder spark for soul.
Across a hostile desert, a woman's desiccated hands accept my gift
In an act of graceful courage.
Once she eats
Her fingers tingle in an awakening of the
Sweet, invincible bond between women,
The body of that connection between every element of the universe,
We have created over and over, since ancient days,
In the shared ritual of mixing, kneading, waiting, baking.

Each receiver of bread returns to her oven and bakes a fresh loaf
The aromas rise, restoring the power of our touch
Molecule by molecule, to all women who breathe in air
Making of us one and also many, each stronger in herself for
Being with one another, like grains of wheat or flecks of herbs in a loaf.
Such a simple act, baking bread, a daily chore.
Women's hands roiling earth and sky together, one with another,
Recreating ourselves as floury bakers of that force that spins every atom
Binding us in joy with yeast and wheat
Feeding each other the miracle of one more day in each other's lives.

Originally published in Moondance, December, 2005 - March, 2006
The bakery offers Daily Specials of course, as well as this menu of old favorites available each and every day for your enjoyment!!!
If you have a bakery delight to add, please feel free to post it here and we will attempt to add it to the bakery's current menu!
Thanks to all our contributors!!!
And of course many thanks to my Bakery Assistant, FoxyLady. And also so many thanks to Gerwhisp, our incredible Bakery graphic artist!!!!
Enjoy!!!
Mamarose's "My Sweet Thing" Bakery Menu
Clack 'N Cheese Cake:
A lovely cheese cake, inspired by Clay's favorite mac 'n cheese, to honor our clack providers. This lovely confection has a creamy cheese filling (no mac) on a vanilla wafer crust, decorated with an image of Clay and a dusting of cinnamon freckles, served on a tray of concert-downloaded DVDs and CDs, with a dollop of Breyers Peach Ice Cream on the side! (Concept by Jage27)
(No image available...but maybe we can work on it)
Iseeme's Scones:
These good old-fashioned scones are a daily staple of Mamarose's "My Sweet Thing Bakery" and, as the name denotes, are a personal favorite of Iseeme.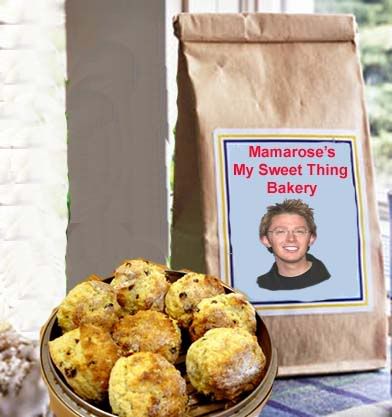 "My Sweet Thing":
Of course the name says it all!!! This ultimately decadent treat, inspired by the man himself (that would be Clay), is a sweet, sultry, smooth, rich, cream-filled confection sprinkled liberally and lovingly with powdered sugar. It will just melt in your mouth! (Concept by WOWpoc).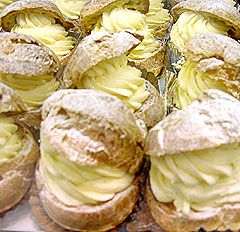 "Strawberry My Sweet Thing":
For those who want to walk a little bit further on the wild side…strawberries add a romantic panache to our classic "My Sweet Thing." Best when eaten while listening to "I Survived You" or "Touch."
"Mamarose's Brownies":
A major NO NO for Clay, but heck…we need chocolate!!! These traditional brownies are also packed with walnuts so no touching Clay, or for that matter breathing on him, after eating these babies.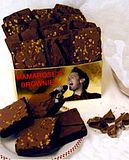 Clay's Evergreen Sugar Cookies:
These very buttery evergreen tree-shaped sugar cookies are frosted with green-tinted icing! (Please refrain from asking the proprietress of "My Sweet Thing Bakery" about the green food coloring in the pantry incident). These special cookies are replicas of the cookies given to Clay for Christmas 2003.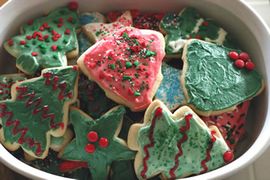 Peanut Butter Chip Cookies:
The ultimate in peanut butter goodness. These cookies were delivered to Clay in Albany, August 2004.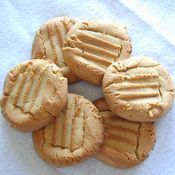 Snarkydoodles:
"My Sweet Thing Bakery's" version of that classic old-fashioned favorite...snicker doodles…but with extra cinnamon added for extra Clay snarkiness!!!
Oatmeal Raisin Cookies:
Offered up as yet another Clay safe cookie! (Scooter's favorite or is that Clay's??? )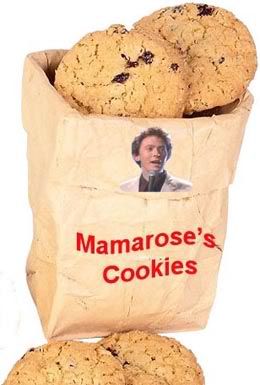 Double Chocolate Chocolate Chip:
This is the ultimate chocolate experience offered at Mamarose's "My Sweet Thing Bakery." These cookies are classically baked for consumption in the Official Sales thread on HDD sales figure days. When Clay CDs are released and we start tapping our fingers and toes while waiting for HDD figures to roll in ONLY CHOCOLATE WILL DO. A must have indulgence!!!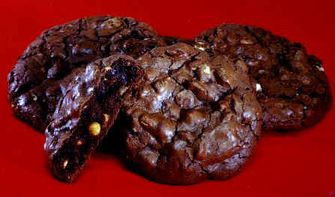 Troll House Cookies:
An old favorite returns! These classics are of course perfect for a good old-fashioned Troll roast...or anytime!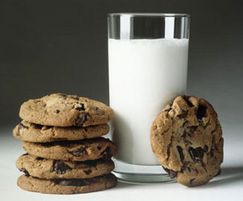 Blueberry Muffins:
Standard morning fare and a favorite in the daily Good Morning thread.
Clandy Clayne Cookies:
Sure to be a hit this Christmas at the Bakery. Best when eaten while listening to a certain Christmas CD!! In honor of MK's mom! (Concept by ClassAktMK)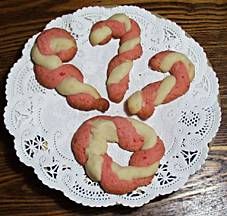 Hey Punkin! Pumpkin Thudmuffins:
Just in time for the fall, these seasonal treats are now available! (Concept by Dino)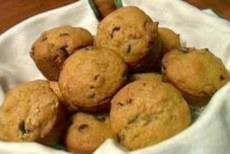 Tinkerbell's Magic Pixie Dust Fudge:
New to the menu...our own Tinkerbell's delightful fudge...made of course with Tink's special brand of magic and a heaping helping of pixie dust!!!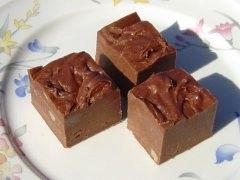 Snarky's He's So Hot Donuts:
For those who still like a classic (like Clay), try these warm from the oven cinnamon applesauce donuts. It's the cinnamon that gives them that extra kick!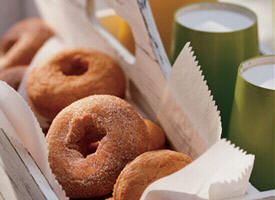 SusanD's Chocolate Chip Danish:
As Susan will tell you, it is a medical fact that we NEED our chocolate in the morning. It is only a rumor, however, that we will be sending truckloads of these babies to Clay Street each morning to test the effects...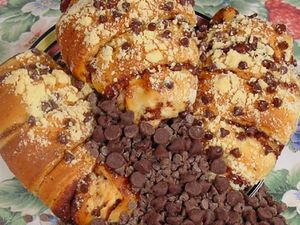 Gerwhisp's Fruit Flan:
Want to start your day with something a little different. This fresh fruit treat is good and good for ya!!!!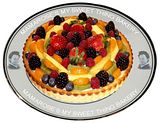 Mammat53's Famous Half Moon Cookies:
Added to the menu due to "public demand." Mammat likes to eat these delicious cookies while browsing through her Photobucket account. 'Nuf said!
Faye's Cow Patties:
Well...Faye makes them so of course, we must too. New to the menu, come enjoy what I am sure will be a very popular addition, despite the name. (In my neck of the woods, we call them No Bake Cookies).

Please enjoy all of our baked goods with any of a variety of
Windstar's Special Brew Coffees
. Check the Daily Specials Board for Windstar's Brew of the Day!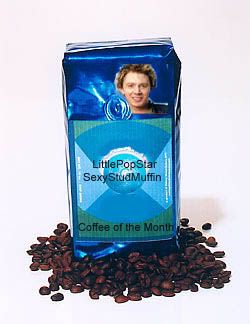 New at the Bakery:
Sonnets43's Sweet Serenity Teas
For all our tea drinkers...and Clay.
Featuring:
Sweet and Snarky Morning Blend:
Puts a snap in your step and gets your day moving.
Mid-Day Growl:
Keeps your energy high and the competition at bay.
Sweet Meet and Greet:
Happy Hour tasty alternative for those who have long drives home.
Candlelight Dinner Blend:
When a meal needs to be memorable.
Sweet Embrace Good Night Blend:
With memory enhancer for added ability to recall favorite video and montage moments all night long.
Announcing the addition of a line of grilled luncheon specials available all day (especially for those of you who work nights...MK )!
Try our newest special:
Dino's "I Survived You Baiken Cheeseburger":
If you're hungry and think you can survive this delicious specialty, then this big burger is for you! Available in half and one pound patties, it comes made to order with all the trimmings and is available with or without our special sauce! Also available with regular or spicy fries and a medium drink.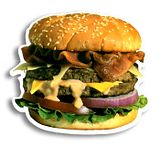 An exciting announcement...Brand New for 2005 From Inishi's "Wisewoman Cottage":
MamaRose's Tea (I am so proud...my own tea!!!)
1 part agrimony, 1/2 part Elspeth's lemon verbena, and 1/2 part hibiscus, and honey to taste. It tastes a little like Hawaiian punch, but is healthier and totally Claysafe!
And for those guests who like to sing, agrimony is traditionally used to soothe vocalists' throats!
Clay's Incubation Tea:
This is a delicious blend of chamomile, sweet gale, honey, and rose petals. Chamomile is a relaxing herb perfect for winter because this is the season when we should all be resting and nurturing the seeds that will grow into our projects and activities in the spring and summer. Sweet Gale is from the Native American tradition and promotes sleep and dreams. Rose and honey are just for a little flavoring. I call it Incubation Tea because in Clay's Celtic heritage the ancient bards used to take what sound suspiciously like naps but when they awoke they would have all sorts of new songs and poems to share with their villages. They called this "incubating." Since the young man in your basement has indicated that he dislikes having nothing to do, maybe he can drink some Incubation Tea, relax enough to do some napping, I mean incubating, and know he is doing what is necessary for coming up with all kinds of creative projects for the coming year. Also the chamomile is good for sore throats, should he ever be bothered by them again.
Switzel Tonic:
This is fresh mountain water with 2 teaspoons of apple cider vinegar and 2 teaspoons of honey mixed in each glassful. It was drunk in the Appalachian Mountains (including NC) in olden times when friends would come over. It's refreshing and yummy.
Clay's Love Is Like a Red, Red Rose
I tea that is great for Valentine's Day, I have brought a tea with which one can entice that special someone into matrimony. It has roses and jasmine because every girl deserves a bouquet, and cloves (ground, for anyone actually trying this in real space-time) because every relationship should have a little spice, and elderberries (ground) to be fruitful (as in "be fruitful and multiply"). Use a spoonful each of roses and jasmine and half as much cloves and elderberries per cup.
North Carolina "Visiting" Tea
My mother's family all come from Alabama and they used to spend their evenings "visitin'," as in passing the time in friendly conversation with neighbors on the front porch. This is some tea your young man can bring to those whom he will soon be "visitin'" across the globe to give them a woodsy, old-fashioned taste of North Carolina, since all the ingredients have been commonly used in that state for generations.
First we have sage, for that down-home wisdom, and then lavender, to bring down the speed of life to a slower pace, and finally wild ginger for that zing and bite that so often lurks behind the easy-going North Carolina exterior. All can be in equal portions. Unfortunately, the sage and lavender are both of the mint family so may not be ClaySafe.
So, to make it up to the young man in the basement, I have left a bag of crystallized (candied) ginger by the basement door to take with him on his journey as it is said to be a wonderful natural remedy for travel sickness.
Remember...any additions are welcome!!!