This is the place to gather on Mondays and Tuesdays
to watch HDD build their sales charts
at the speed of molasses pouring from a jar ..............


Good morning all!


We will be tracking week 88 sales for Tried and True in this thread. Enjoying the new single Bring Back My Love - to AC radio in January. And enjoying the interview promo that Clay is doing for Celebrity Apprentice now that the official announcement has been made! Upcoming - Feb 19 premiere of Celebrity Apprentice on NBC. Clay is scheduled as a judge for Feb 18 DCINY.org event and as soloist/narrator for a DCINY concert on Feb 20. AND NEW ALBUM STEADFAST ON MARCH 27! Per the track list on Amazon, this is a repackaged TNT but has new song Bring Back My Love added.

Our last numbers for TNT are from January 27, 2012 - 68,000. Thank you to ezz for making an updated graph!

Note that this does not include albums sold through PBS stations as those are not sound-scanned per Pink Armchair.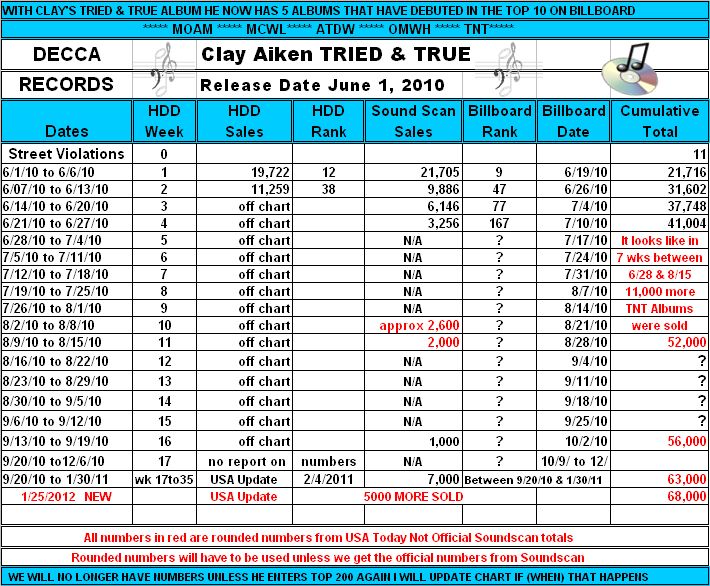 The milestones from Clay's first four full albums are in post 2 of this thread for reference.

It wouldn't be an HDD thread without starting with our sales poem, kindly written by Ilbun.


Official Sales Thread Poem by llbun

HDD, hurry with the numbers for Clay,
We've been cleaning toilets forever and a day,
We want to know how our baby is faring,
We expect very good from all we are hearing.

Waiting for numbers is really a strain,
Makes my heart pump fast and hard on the brain,
Ease our nerves with a faster update,
Why is HDD always so late.

I think they know that waiting is hard on each fan
I think they do it because they know they can,
We want to know where Ruben, Kelly and Fanny will place,
But theres only one who will bring a huge smile to our face.

Clay, come on and show all the naysayers just what you can do,
No matter your placement you know we are so proud of you.
We love Clay to distraction, you know that's a fact.
So give us his numbers and watch us react.