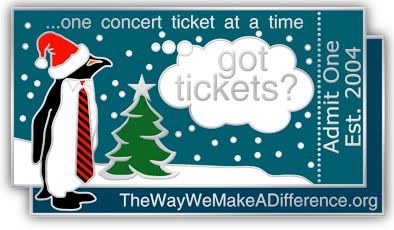 The Way We Make A Difference Ticket Project would like to announce that we are accepting donations of tickets for Clay's upcoming concert to be held Friday, March 12, in Raleigh. We are seeking donation of tickets ONLY. If you are someone who has upgraded your seats and finds you have an extra ticket or two to donate, we would welcome them!
For anyone not familiar with our project, TWWMAD promotes inclusion by offering a chance for people with and without disabilities to share in the excitement of seeing Clay in concert.
If you have tickets you would like to donate, please email

kat@thewaywemakeadifference.org

or

ticketdonation@thewaywemakeadifference.org
Thanks!!