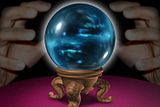 The stricken look on Foxy's face told the tale. And all I could think, over and over, was how could this be happening? But it was.
It had all started innocently enough. Foxy and I, after sending a flurry of last minute Bakery customers on their frosty way with special goodies in hand, had settled before the fire with warm drinks, as is our usual New Year's Eve custom. And of course, as is also our custom, we had prepared to make our way behind the old upright piano at the Bakery to reach into the secret hidden cupboard and bring forth our beloved and magical Clayboard Crystal Ball so that we could once again look into its depths and see some sign of what lay in store for us in 2010.
But when we, with much difficulty (we are getting older you know), pushed aside the piano and opened the little cupboard door, the space that had lovingly housed our Clayboard Crystal Ball for these past almost seven years, was EMPTY. There was no ball to be seen. It was GONE…simply vanished.
After the initial shock we sprang into action. Throughout the night we had searched, even calling in the help of some of the other Bakery ladies who happened by - Inishi, Marti and Gerwhisp - as well as Kenny, our Bakery cook, helper and jack of all trades. All night long, in every conceivable place, we had searched and searched, all to no avail.
And now it was nearing dawn on New Year's Day, and we were exhausted. It was no use. Our Crystal Ball was gone. Through the Bakery window I could see the darkness turning dimly gray through the swirling snow. Inside, we all sat before the crackling Bakery fire that Kenny had just replenished with another log. And as we sat we hashed over again and again what could have happened. It was Inishi who remembered the work that had been done at the Bakery that past July. There had been renovations that had required moving the piano and shifting all the furniture around. It had kept the Bakery in quite a bit of disarray for a few weeks before all had been set to rights and things had gotten back to normal.

"Could it be that in that time of renovations," Inishi conjectured, "that the Crystal Ball had been moved?" "Maybe a workman moved it, thinking it might get harmed, and then forgot to put it back," Gerwhisp offered.
"Who knew," I thought, and then smiled in spite of myself, thinking of "Spamalot"…and Clay.
Oh Clay, what would he think? Here I was, Mamarose, the new owner of the Clayboard, and I, after seven years of safe keeping, had LOST the Clayboard Crystal Ball. Kenny read the look on my face and came over to pat me reassuringly on the shoulder. "Now come on Mama," he said. "You know it is not your fault. These things happen. You need to stop worrying. That Crystal Ball is magic. How else could it do what it does? It knows where it belongs and one way or another, it will turn up. I have some New Year's Day cinnamon buns to put in the oven. But you ladies need to stop fretting and trust and hope things will work out." He smiled as he gathered up some empty coffee cups and left the room.
I looked from one very tired face to another and knew he was right. Hope right now was the key word. The previous year had not always been an easy one and of course we were all concerned about what the future held in store. But now, on the verge of 2010, our Clay Nation was indeed filled with hope. Still, I sure would have loved to look into our Clayboard orb for that special reassurance that only it could give.
As the fire warmed us all, one by one, we fell silent in our cozy chairs. It had been a long night and no one really wanted to move or venture outside to brave the stormy weather that was battering the Bakery windows.
Just as I was starting to nod off a little I heard what I could have sworn was a car door. Eyes flew open and we looked from one to another in surprise. "Who in the world could that be," Marti asked, "It is barely dawn and we don't open for hours yet." We all sat for what seemed quite a bit of time waiting for the inevitable knock at the Bakery door, but it never came. Kenny, also hearing the noise, emerged from the kitchen and headed for the door. He took a second to peer though the window into the gloom outside and then pulled the door open. A gust of very cold air and a swirl of snow greeted him, but there was no one there. With a shrug, he started to close the door when he happened to glance downward and to the side and there, on the Bakery stoop, was a small cardboard box taped tightly shut, and some very large footprints. "What in the world," Kenny exclaimed.
That was all it took and all the Bakery ladies were on their feet and gathering around Kenny as he picked up the box and shut the door against the fierce wind. Well, as you can imagine, our sleepy selves were sleepy no more. Nothing wakes one up like a mysterious box left by a nameless, faceless stranger just before dawn on New Year's Day.
Kenny tore the tape from the box and opened it with a flourish, and with a huge grin on his face, he lifted from the confines of the box - OUR BELOVED CLAYBOARD CRYSTAL BALL. As he did so, a piece of paper fluttered to the ground. Kenny placed our wayward ball into my hands and I sighed with relief. Here it was and from the looks of it, it was no worse for wear. It was cold, and a little smudged, but otherwise in good condition, and I hugged it to me thankful to have it in my hands once again. But who in the world had delivered the ball at this hour of the morning? Where had it been and with whom?
Foxy broke the silence as she reached down and retrieved the note that had settled at Kenny's feet. "Perhaps this will shed some light on what in the world is going on around here," she said.
I placed the ball on the table and took the note from her hands and opened it. The distinctive scrawl was at once recognizable to all of us. The note read:
Dear Mamarose and Clayboard,

I wish I could stop in to visit but I have much to do. These days I am pretty busy. I knew you would be looking for this and I wanted to make sure you had it today so you did not worry. It is not important how it came to be in my possession, but let's just say this Crystal Ball of yours truly is magic.

Before I go, I want to make sure you all know how proud I am of you at the Clayboard, and how proud I am of all my fans who have stuck by me through thick and thin.

And let me just say this: Be prepared for 2010!!! It is going to be good and I am glad you are all here to share it with me. Hold on tight because here we go!!

And Mamarose, keep an eye on this Crystal Ball of yours. It obviously had a tendency to wander and who knows where it will end up next year. (tee-hee).

Gotta run y'all. I'll be seeing you soon.

Happy New Year!

Love,

c
I put the note down with tears in my eyes and slightly shaking hands and went to stand before the ball. I passed a hand over it and looked into its depths wondering if it would say anything to us this year. Foxy, sensing my thoughts, came to stand beside me.
"Mama, why look now? I think someone who knows better than anyone has told you what to expect from 2010. What more do we need to know? I am going to go get some rest. It is going to be an amazing year for Clay and all of us and I want to be ready!"
I could only smile. How right she was.
"Ladies, give me a hand and let's get this thing safely back into its resting place behind the piano until next year," I said. But as I reached to pick the ball up it flashed a brilliant blue light and I could see words swirling upward toward the surface. We all gathered around to get a better look, but in my heart I already knew what it would say:
The best is yet to come! All is well! Welcome to 2010!




Happy New Year Clayboard!




Happy New Year Clay Nation!




Happy New Year Clay!